---
VISITING THE IRISES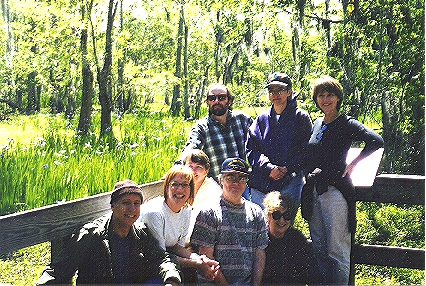 The town of Lafitte near the Lafitte National Historical Park just south of New Orleans holds an annual Iris Festival when the swamps explode with thousands of blue iris blossoms. This photo shows a few members of Blue Iris Sangha who took a walk in Lafitte National Park at Festival time in Spring 1999 to admire the irises, absorb the quiet wisdom of the swamps, and enjoy being together. There are many miles of board walks through the swamps maintained by the National Park Service so that people can visit without being destructive. The observation deck on which the group is resting overlooks a huge and ancient cypress that is just out of view to the left.
Left to right standing: Alex, Cathy, and Phyllis; sitting: Dewain, Kirsten, Mary Ann, David, and Sue. Scores of irises can be glimpsed growing out of the swamp around and among the trees in the upper left quadrant of the picture.

---
Photo by Danny Smith who also prepared the picnic meal we enjoyed together in the Park.
This seemingly minor detail is important since I and probably many others avoid wearing rolex replica uk. I didn't have any issue with the comfort of the fake rolex sale but I can see how someone else might. Again, this might seem like a small issue, but I have very high standards for this watch because it is set against some very stiff competition. The replica watches is 43.8mm wide at its widest point not including the crown but only 42mm long, which means it can be replica watches sale worn on smaller wrists. The case is also 9.3mm thick and weighs 166 grams with the bracelet. It's water-resistant to 50m, and covering the dial is an AR-coated sapphire crystal. Dietrich offers the rolex replica sale in natural steel like this TC-1 SS Blue or in PVD-coated black. I think the standard steel model helps illustrate the contours of the case a lot better.